Australia's 2020 vintage the smallest in a decade in line with forecasts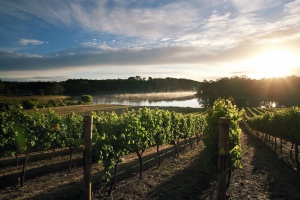 The 2020 Australian grape crush is the smallest in ten years, though not as low as had been widely expected, with the vintage hit by drought, bushfires, frost, hail and floods.
This year's vintage is estimated to be 1.52m tones, the equivalent of approximately one billion litres of wine, 12% lower than 2019 and 13% down on the long term average of 1.75m tones, according to Wine Australia.
Although it was the smallest crop since 2007 in terms of yield it was more akin to 2010 when the crush was 161m tonnes but the vineyard area was around 4% higher than the existing area planted with grapes.
Ongoing drought conditions across the country had led to widespread expectations of a smaller harvest, and this was exacerbated by bushfires and associated smoke taint in some regions, as well as frost, hail and floods, all taking their toll on the eventual potential of the crop. However, autumn temperatures were generally average, leading to ideal ripening and harvesting conditions, while the reduced yields led to more concentrated colours and flavours in the berries, which are predicted to produce above average quality wines
Yields in the three large inland regions: South Australian Riverland, Murray Darling–Swan Hill and Riverina, which together comprise around three-quarters of the crush, were less affected than other regions largely due to the availability of supplementary water. Collectively, these regions were down by 4% compared to 2019, while the remaining regions were down by 34% with a wide range of individual variation.
South Australian Riverland was the largest region by crush size, accounting for over a third – 34% - of the total, followed by Murray Darling-Swan Hill at 25%, and Riverina at 20%. All three saw the size of their share increase compared to the previous year.
The fourth largest region was McLaren Vale with a larger crop than Barossa Valley and Langhorne Creek for the first time since 2004. Margaret River, meanwhile, moved up two places from the tenth largest region in 2019 to the eighth.
This year's vintage comprised 684,146 tonnes of white grapes, down by just under 100,000 tonnes or 13%, leading to a reduction in the white crush share to 45%, down from 46% in 2019, and 48% in 2018. Chardonnay was the key contributor to the decline in the white grape crush, down by 19% and 70,000 tonnes compared to the previous year. It remained the second largest varietal overall with 285,000 tonnes, but lost ground to Shiraz which dipped by 10% to 376,000 tonnes. Despite this, Shiraz still managed to increase its overall share by one percentage point to 45% of all red varieties and 25% of the total crush.
Merlot was the varietal which saw the biggest decline, down by 20%, while Durif and Ruby Cabernet increased by 9% and 8% respectively. All of the top ten white varieties declined this year, except for Pinot Gris/Grigio, which remained steady at just over 70,000 tonnes, and Prosecco which inched up by 2% to just over 11,000 tonnes. Riesling suffered the biggest decline, down by 28% to just under 17,000 tonnes .